【公告】112學年度起大學部課程加簽流程說明 Course Enrollment Announcement for Undergraduates (Effective from Fall 2023)
英語教育中心所開設的必修英文課程:各級「英文一」、「英文二」和「中高級英文三」,保障各學院大一學生可以修到所屬級別的課程;「選讀英文」優先供大二學生選課。為確保同學可以順利於時限內畢業,大一請於各院時段修畢英文課程,大二請依級別修畢「選讀英文」。
如欲申請加簽,同學務必事先了解該課程教師設定的加簽條件,並於當學期加退選期間到課,向該課程的教師徵詢。取得教師紙本同意後,將紙本加簽單送至英語教育中心(綜二R206),中心將在電子加簽平台上送出申請。
因個人考量,未對應年級與學院分配時段而改於其他修業年級選課或改選其他時段之英文領域課程,加退選時間需申請加簽者,請依該課程教師設定之加簽條件流程辦理。
詳細加簽流程請參閱下圖,請於09.25(一)下午4點前將老師已簽核之紙本加簽單送至英語教育中心,紙本加簽申請單如附檔: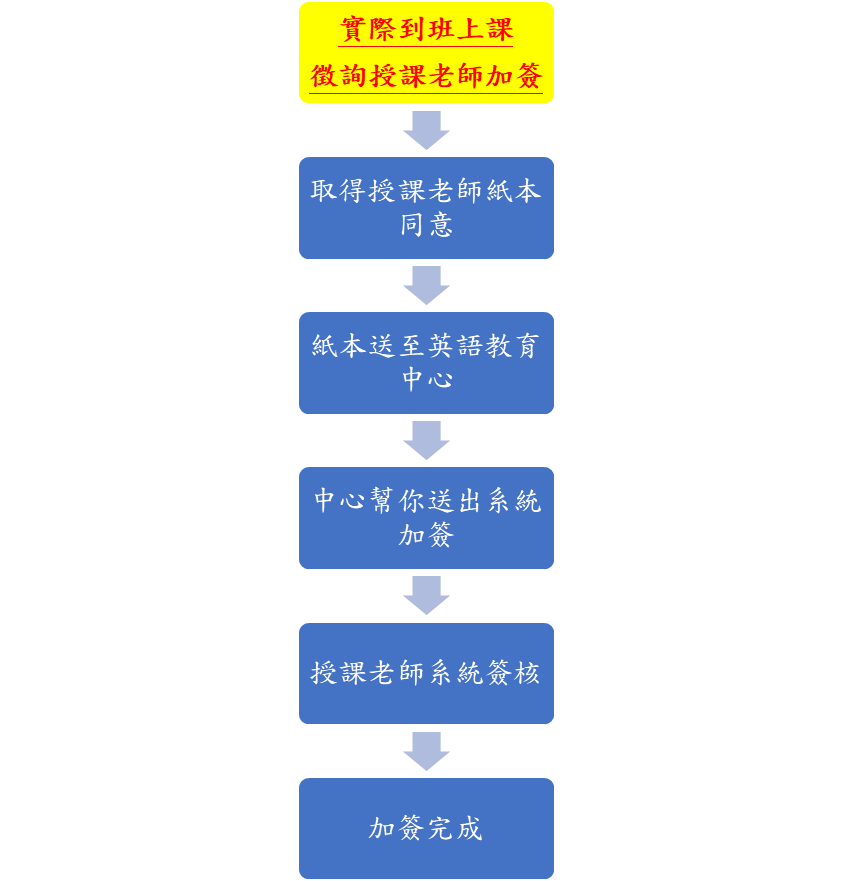 若曾於高中或大學期間考過英檢考試,達一定標準得申請減修選讀2學分或免修英文全部學分,詳細說明請參閱以下連結:
https://nthu-english.site.nthu.edu.tw/p/412-1532-18300.php
Course Enrollment Announcement for Undergraduates (Effective from Fall 2023)
The Center for English Education offers both compulsory and elective English courses. Compulsory English courses, including Elementary/Intermediate English I & II, Upper-intermediate English III, ensure that freshman students of each college can take the courses of their respective levels. As for Elective English courses, sophomore students have priority in selecting the courses.
In order to ensure that students can successfully graduate within 4 years, it is strongly recommended that students complete the compulsory English courses offered for each college during their freshman year, and complete the Elective English courses of their level during the sophomore year.
If you want to enroll for a course, students must go through the conditions listed in the course syllabus in advance, and come to class during the Add-or-Drop period of the semester to consult with the instructor. After obtaining the instructor's paper consent, please submit the application form to the Center for English Education (@R206, General Building II), and the center will assist in sending the enrollment request on e-Form.
The Center for English Education will have difficulty in processing enrollment requests from students who do not choose the English courses allocated by their grade or colleges due to their personal reasons.
Please refer to the figure below for the detailed enrollment process, and the application form for course enrollment is attached:
***Note:
Students who have passed the requirements of specific English proficiency tests during high school or college can apply to waive 2 or 8 credits of the required English courses. Please refer to the link below for more details.
https://nthu-english.site.nthu.edu.tw/p/412-1532-18300.php